So all this week, I've been half tempted to munch on my fingernails and show you all of this awesomeness, and half tempted to fling myself into a stampede if I could ever find one in PA. Thankfully, I have a horrible phobia of both being trampled to death and putting my hands in my mouth, so we're safe for now.
What is this awesomeness that I speak of? Well, I'm not exactly the best with words when it comes to blog posts (unless I plan them out months in advance and recite exactly what I'm going to say while washing the dishes at 2AM), so I think I'll just show you instead.
But first! There's a blog post winner to be had here. Drumroll....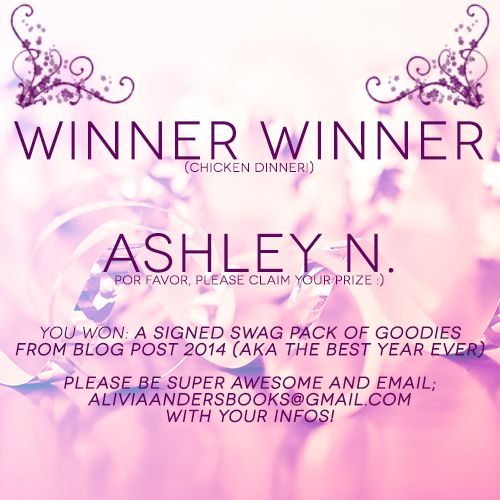 Yay Ashley, super congrats! I have a whole pack of bookmarks, special cards, magnets, and more coming your way!
And now, back to the other super surprise at hand. I know I promised you guys a post on book releases and stuff, but I figured no one was going to tie me to a tree and hold me hostage if I released this information first instead. The book post will go up probably Tuesday, and have details on all the series, including a new one called the Dream Chronicles, which is... well, you'll see. I'm giving away too much already as it is!
Back to the surprise. Y'all are going to want to mark your calendars for February 6th. Why, dare you ask? Some of you already know what I'm hinting at; a good handful of readers have been getting their hands on some special Shard of Ice cards I had printed ages ago. On the back side, there's a pretty little website to follow to. But it's what's going to be on that website that's going to get everyone's knickers in a welcomed pinch. (That sounded weird.)
The website will give the chance for everyone, both from bloggers to book lovers and more, to get their hands on signed goodies, paperback ARC chances for ASOI (and I only have a few, so these will be a limited batch) early reads of the first few chapters, insight to the characters, and a whole bunch more.
So again, FEBRUARY 6th! Check back here, and you'll see a post with a nifty link. I'll share the heck out of it on Twitter and Tumblr too for you non-blogger and Facebook peeps.
But until then, I leave you with this sneak peek! Here's the header to the site, maybe you can fish a few clues out of it. ;)